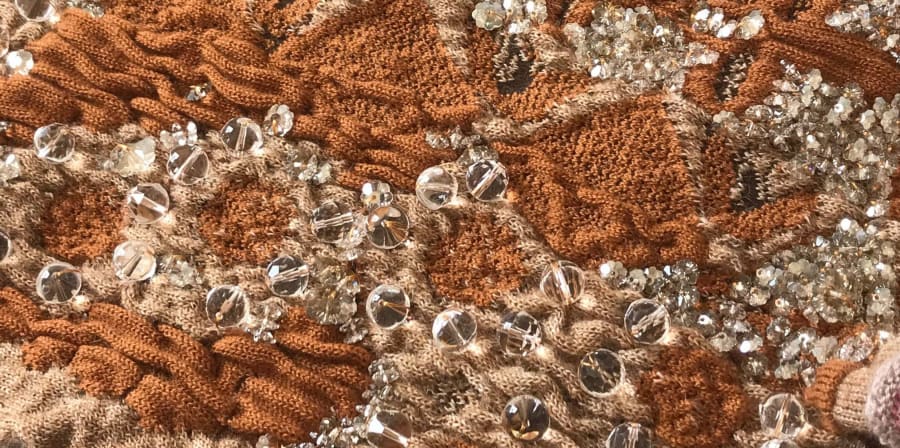 Ferenc Zepko, BA Textiles: Weave runner up, explains why he thinks that the future of fast fashion is in fact slow.
"It is estimated that the second hand or resale market could be bigger than fast fashion within a decade as we are more aware of the social and environmental impact of cheap clothes" ("Forget fast fashion: slow style pioneers on the clothes they've worn for decades", The Guardian).
I think the future of fashion is in slow fashion. We will buy fewer clothes - they will be better made, we will keep them for longer and we will repair them when they break. Mending and fixing clothes will become very popular because it will enable us to cherish our beloved garments for longer and with repairing we will make them new, exciting and different again. In the future I believe that there will be garment repair shops where artist and designers will give our clothes a customised second life.
"I think the future of fashion is in slow fashion. We will buy fewer clothes - they will be better made and we will keep them longer and repair them when they break."
For my project I experimented with fixing pieces of knitting with crystals, making old-looking, worn out fabrics appealing. In my project I was intrigued by Daniel Swarovski's vision to make dream-filled jewels accessible to all people, of all ages, around the world, to inject glamour into women's lives – to democratise luxury.
"I think that brown is the most democratic colour, the colour of the future..."
For centuries bright, colourfast dyes for cloth, such as scarlet, were difficult to find and extract so they were for the rich and powerful; brown was one of the few colours available to the poor. It is a natural, earthy colour that represents us all and so it is probably the most democratic colour. I believe it is the colour of the future and in my project, with the help of Swarovski crystals, I tried to make this colour luminous and desirable. My fabrics are fashion fabrics. They are for a quality second hand market.
Whats does conscious design means to you?
When you are designing something with great care and a focus on quality, that equals conscious design to me. Quality products are almost always sustainable because they last longer and will not need to be replaced so often.
As a designer would you say you're consciously minded or do you put more emphasis on the creative process?
My creative process usually starts from very conscious observations.
What is your creative process, do you usually have a vague idea in mind and work towards that or do you just let your creative research guide you?
I usually have a vague idea in mind - this idea triggers the research. When the research starts it takes over and the initial idea changes completely.
How was it working with Swarovski crystals? Is it a material you have worked with before?
This was the first time I used them and it was a challenge. They have such a strong cultural and visual heritage that it is difficult to put them into a new context or find a new angle for them. Nonetheless I really enjoyed this challenge.