Typography: Original Copy (Online)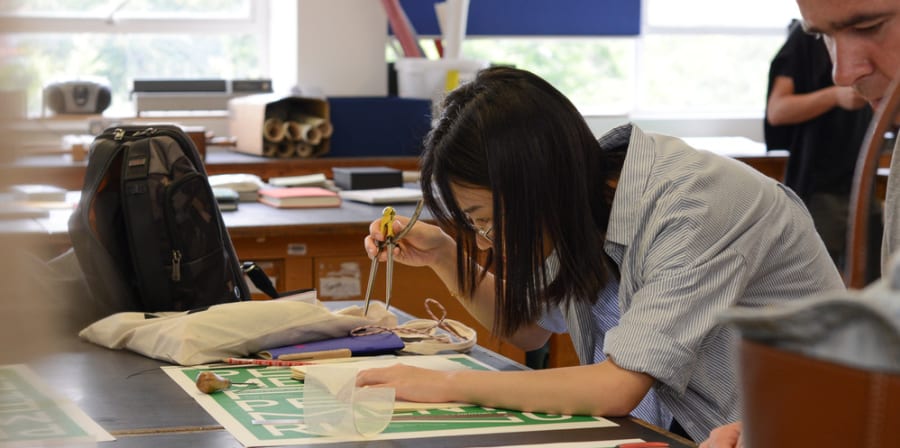 The fictional book Certified Copy argues that, in art, issues of authenticity are irrelevant because every reproduction is itself an original, and even the original is a copy of another form. In a postdigital culture how might this argument challenge and advance the art of typeface design?
Sign painter John Downer has proposed a type classification system for understanding how newer typefaces are derived from older ones "whether a designer admits to being inspired by historical models or not".
Using Downer's system as a compass, each student will be asked to research practices of revival and remixing within the field of typography. To this end, students will consider the diverse range of motivations for designing a typeface, resulting in the design of a typeface accompanied by a type specimen that tells a story of its origin and evolution.
Course Content
Design a typeface while considering issues of preservation vs plagiarism, appreciation vs appropriation, analogue vs digital
Identify and classify typefaces according to both conceptual and formal motivations
Examine the aesthetic and cultural functions of a typeface
Verbalise and develop a vocabulary for explaining design decisions in relation to intentions
Learn how digital fonts are distributed, promoted and sold
Individual project
How will I Study
You will study on the University's VLE system, developed specifically for the teaching and learning of creative practices, online.
Lectures and discussions
Group work
Guided creative projects you can complete from home or your local areas
Individual tutorials
Project work and Presentations
You will be assessed on your contribution to classes and project work
How UAL Online Courses Work
All online courses have the benefit to be a part of the University of the Arts London Virtual Learning Environment (VLE), and have been developed specifically for the teaching and learning of Art and Design practices, online.
This Virtual Learning Environment uses the latest technologies to provide the participants direct access to lessons, assignments, portfolio space and live classes from most devices enabled to access the internet, including smartphones and tablets.
UAL Study Abroad Online courses are a mix of live classes and self-study time. Students will be required to attend live classes at a given time every week and work on the weekly assignment between classes.
Every week, the tutor and student will meet in the virtual classroom and participate as a class, which is set at a recurrent day and time (set in the United Kingdom, times GMT or BST and dates are subject to UK national holidays).
For convenience, the classes and course content are archived and made available for review for up to three months after the course finishes. The platform also enables each participant to manage their own content, including the submission of their work for assessment by the tutor.
Live course sessions:
Courses have 2 live contact hours per week, for 15 weeks in a row. The weekly session consists of 1.5 hours of lectures/seminars/talks and 0.5 hour is dedicated to tutorials. Lessons are scheduled between 3:30 pm and 5:30 pm BST. All sessions are recorded and available to view until the through the duration of the course.
Materials and equipment needed for the course:
Laptop/Computer
Good internet connection
Microsoft Word
PDF reader
Yvan Martinez has over 15 years experience as a designer and educator. Since 2001 he has been working across the education/practice divide, leading workshops and research projects at schools internationally including ArtCenter, ArtEZ Institute of the Arts, Bath School of Art & Design, Fabrica, Gerrit Rietveld Academie, San Francisco Art Institute, Sheffield Institute of Arts, UCLA DMA Summer Institute, Valand Academy and Vilnius Academy of Arts, while working with clients including Arkitip, Edwin, Emigre, The Face, Giorgio Camuffo, GLBT Historical Society, MTV, Nike, The Face, Urban Outfitters and Wieden + Kennedy. Martinez's work has been exhibited widely and is part of the permanent collections of Cooper Hewitt National Design Museum, Denver Art Museum, MoMA and SFMOMA.
Martinez is Course Leader of BA Graphic Design Semester Programme at Central Saint Martins and Associate Lecturer for MA Graphic Design Communication at Camberwell College of Arts.
Martinez is a co-founder, editor and art director of Books From The Future – an artistic research platform that produces and publishes self-initiated research on contemporary culture, experimental communication and graphic design. He is also a co-founder of Public Foundry, a type foundry and community archive powered by the public using artificial intelligence.
http://booksfromthefuture.info
Yvan Martinez is a recipient of Google's Research Awards 2020, funded by the Artists and Machine Intelligence programme. He is also the 2020 Hoffmitz Milken Center for Typography (HMCT) Typographer-in-Residence.
This course is aimed at graphic design students with a working knowledge of typography and typographic principles, including graduate and professionals interested in engaging with contemporary debates in typography, as well as developing new methods of research and design.
Level of study
UAL Online Study Abroad courses are for undergraduate, graduate and independent students from around the world. Minimum age is 18. Minimum GPA requirement for US students is 3.0. Non-US students should submit academic qualifications and achievements instead of GPA.
Level of English
The equivalent IELTS score of 6.0 or above is required. If you are interested in IELTS preparation courses, please visit UAL's Language Centre website for further information.
Credits
Each course is 30 contact hours (suggested credit value of 3 US credits). Students receive a Record of Study on completion of the course along with a suggested credit value. Credit is awarded by the home institution.