Summer Study Abroad - Fashion Design Menswear
Get the full experience of a working menswear designer - covering research, subject knowledge and context, to design development.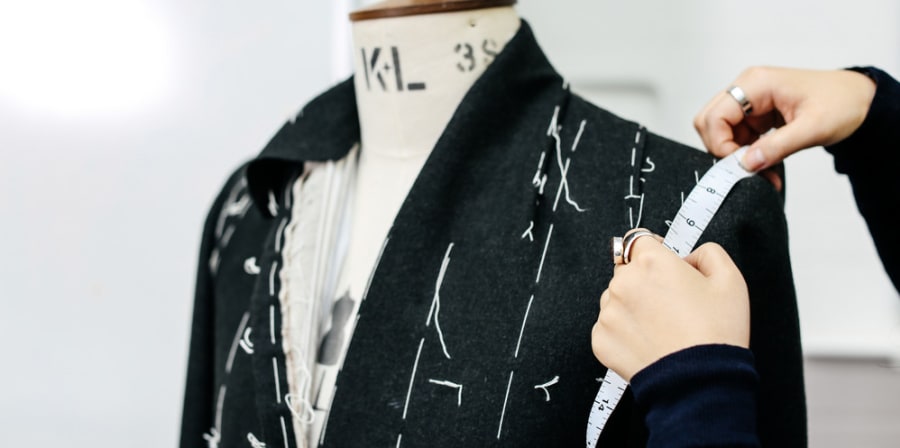 Taught by: Christopher New, Florence Blall and others
This 3 week course covers the full experience of a working menswear designer. It includes research, subject knowledge and context, to design development. It then goes on to teach you the basics of garments construction, based on a vintage piece. The focus is looking at menswear as a "product' rather than high-end fashion.
To achieve a 3D final outcome, together with 2D portfolio work, students are expected to focus and be self-sufficient and hard working. We encourage students to take initiative and work independently. A basic 'block' shape / pattern will be followed by the whole class, but there will be plenty of scope for individual students to personalize their own garment. Garment construction help will be provided, however, and students will need to work independently. They will need to follow the design brief of the module. Tutors and technicians from BA Fashion Design Menswear plus relevant visits and industry guest lecturers will provide an authentic and intensive experience of fashion design menswear at Central Saint Martins.
Course level: Open
Christopher New (Course Director) started his career working for Paul Smith in the early 1980s. In 1984 he left to open his own retail shop in London's Soho district. He soon expanded his retail and wholesale business, opening stores in New York, and Tokyo, and wholesaling his collections to boutique stores worldwide. In 1997 he sold the business and took the post of course leader for BA Fashion Menswear at Central Saint Martins, but still doing freelance designing for a number of well-known UK brands. Christopher retired as Menswear Course Leader in 2018 but continues to have an active role as academic Quality Coordinator of the fashion programme.
Florence Blall (Course Leader) has studied fashion design and pattern cutting in France before completing her BA in Fashion Design with Menswear at Central Saint Martins. She went on to work as a designer for the likes of Paul Smith and Kenzo and as head designer for British kidswear label No Added Sugar. She is currently teaching fashion as well as designing freelance and designing her own kids lifestyle label.
Please bring with you to the first session:
Basic stationary
Cutting shears
Paper scissors
Pattern-master curve
Bradawl
Tape measure (metric)
Fabric marking wax
Garment pins
Pattern cutting paper and calico for 'toiles' (garment prototypes) will be provided. Students will be taken to the fabric shops in London's Soho district to buy fabrics and trims at cost.
Items can be purchased from the college shop or local art store.
This course is open to all students however a basic knowledge of fashion design and garment construction is advisable to get the best results from the course. Those with more experience will be given more independence to follow a more personal design path, assuming a greater level of self-sufficiency. Students are expected to have some experience of research and sketching, and some basic experience in sewing.