Tokyo Institute of Technology (Tokyo Tech) is the foremost university of science and engineering in Japan. Over the past few years, staff from Central Saint Martins and Tokyo Tech have been inspiring each other through best practice and research in efforts to remove disciplinary boundaries.
The Experiment, 2017
The conversation between the two institutions began with a one-day symposium titled The Experiment in May 2017 in Tokyo. At the opening of the event, Head of College Jeremy Till presented a provocation for the day:
"Normally science and art are seen as separate spheres, each with their own methods of working, thinking and doing… This is indeed how universities and school curricula are divided, with students identified as belonging to one tribe or another… As the global situation has become ever more complex and fluid, we need multiple and hybrid ways of thinking."
Taking "the experiment" as a way into discussion, Heather Barnett (MA Art and Science) and Carole Collet (Professor of Design for Sustainable Futures and Director of the Design & Living Systems Lab) shared their research and strategies. In the second session chaired by Professor Kayoko Nohara focusing on Art, Science and Technology, Professors Katsuhiko Hibino, Dean of Art at Tokyo University of the Arts and Professor Shigeo Hirose responded with their perspectives on the "experiments" they conduct on a regular basis in the fields of art and robotics respectively. The concluding session with Jeremy Till, Professor Asa Ito from Aesthetics and Professor Akihiro Konagaya from Molecular Robotics was moderated by the Institute Professor and a highly distinguished journalist, Akira Ikegami.
Residencies, 2017-18
Over the course of 2017/18, Tokyo Tech hosted three Central Saint Martins academics in Professor Nohara's laboratory in the Department of Transdisciplinary Science and Engineering. The three members of staff selected are Ulrike Oberlack (MA Design: Ceramics, Furniture, Jewellery), Betti Marenko (BA Product Design) and Heather Barnett (MA Art and Science).
Read more: Tokyo Second
Ulrike Oberlack visited Tokyo Tech in October/November 2017. Her teaching programme aimed to introduce Japanese students to a range of design projects engaged with science and technology, followed by a practice-based experience of how such a design approach works, based on Oberlack's practice, PhD and postdoctoral work in wearable light. Her proposal links to Tokyo Tech's Materials Research Hub through shared interests in flexible sensor, OLED and quantum dot technologies.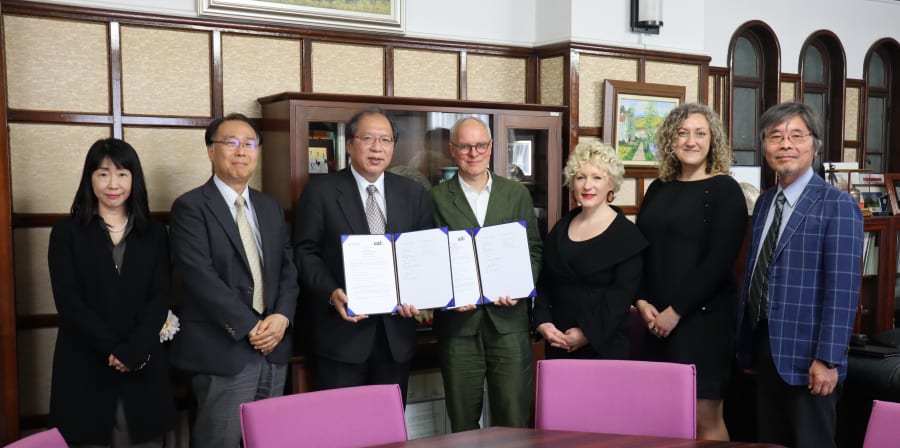 Memorandum of Understanding, 2019
Signalling an important milestone in the collaboration between our institutions, a Memorandum of Understanding was signed in Tokyo on the 15 May 2019 between Central Saint Martins and three schools of the prestigious Tokyo Institute of Technology: School of Engineering, School of Materials and Chemical Technology and School of Environment and Society. It officially formalises our partnership, promoting collaboration in academic research, education, staff and student mobility and university-industry enterprise.
After a meeting between Tokyo Tech President Kazuya Masu and the Head of Central Saint Martins Professor Jeremy Till, the signing ceremony took place. It was attended by Prof. Mitsuji Sampei (Associate Dean of School of Engineering), Prof. Yuji Wada (Dean of School of Materials and Chemical Technology), Prof. Norihiro Nakai (Dean of School of Environment and Society), Prof. Shigeki Nakagawa (Director of International Cooperation Office, Engineering Schools), Prof. Kayoko Nohara (School of Environment and Society, WRHI research hub member), and Prof. Till, Rachel Dickson (Dean of Academic Programmes, Central Saint Martins), and Gemma Proudley (International Partnerships Development Manager).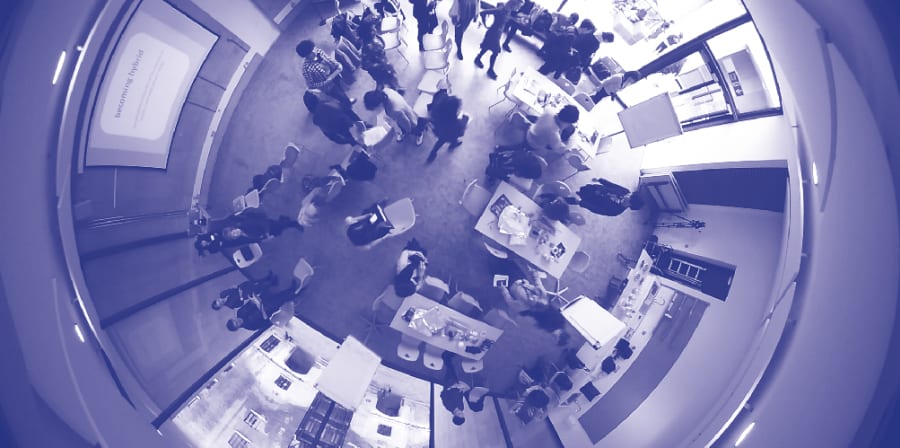 A colloquium on transdisciplinarity and collaboration marked the signing of the memorandum.
Organised and chaired by Central Saint Martins' Dr Betti Marenko and Dr Ulrike Oberlack (who are both also specially appointed WRHI Professors at TokyoTech) together with Professor Kayoko Nohara, the colloquium was hosted by the Nohara's lab on 14 May. The first of its kind held at Tokyo Tech itbrought together Tokyo Tech faculty from a wide variety of science and technology disciplines (see list below) together with CSM faculty (Betti Marenko, Ulrike Oberlack, Jeremy Till, Rachel Dickson, as well as Heather Barnett and Nathan Cohen via Skype). Its purpose was manifold. It was a celebration of the collaborative activities that have been taking place between the two institutions since May 2017 including a symposium on the nature of the experiment, teaching and research residencies, an intensive hack-a-thon, a science and philosophy café, workshops with postgraduate students and faculty and an expanding network. It succeeded in creating an informal platform for conversation and exchange concerning the shape of our future collaboration underpinned by a strong rationale of transdisciplinarity ethos.