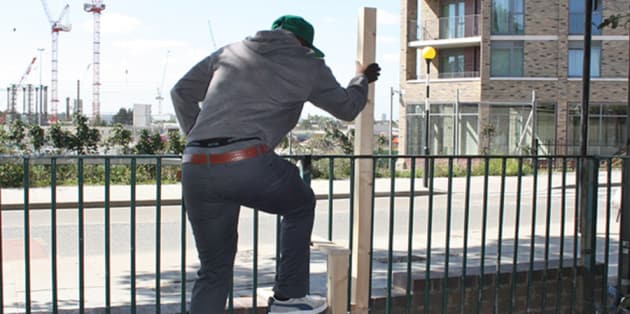 Cally Calls was an artist-led research project exploring the multiple voices of a very local place. It tested approaches for collective learning about, and dissemination of, local identity. The project partners were new neighbours in a rapidly changing neighbourhood who were seeking to engage meaningfully and productively with each other.
Team Cally and AIR carefully paired seven artists with people who live and work in the Caledonian Road area, known locally as The Cally – a postman, a retired solicitor, an unemployed young woman, a playworker, a group of female pensioners, a caretaker, and a café owner. The artists and their pairs walked and talked the Cally during the summer and considered how a place is defined by the lives lived there.
In immediate response artworks were developed that demonstrated subtle local knowledge and made immediate interventions. The works were exhibited in a disused hairdressers on the Caledonian Road as part of the Cally Festival in September 2013, and subsequently at UCL Urban Lab's Cities Methodologies 2014. They included the first draft of a novel, a seven day mail-art work, a collection of bespoke hand printed Cally paper bags, an audio work of birdsong and sweeping, a temporary stile for a blocked desired path, a film about adolescent conflict, and a pairing of street identities through the re-presentation of one artist's Ralph Lauren collection.
The project was led by AIR, a project studio at Central Saint Martins, and Team Cally, a community partnership of residents, councillors and service providers in Islington's Caledonian Ward, working with other local partners including Copenhagen Youth Project, Islington Play Association and Jean Stokes Hall over 55's. The commissioned artists were Giles Bailey, Margot Bannerman, John Costi, Ruth Ewan, Magda Fabianczyk, Mathilda Fowler and Lee Milne. The project was funded by CreativeWorks London.
Cally Calls was able to thoughtfully demonstrate that there were further layers to the community, to explore the neighbourhood in a measured but understated way, and to break lots of stereotypes about who is invited to participate.
Mohammmed Hammoundan, formerly of Team Cally:
Working with artists and spending time with them over that period I now understand the mutual benefits. They are able to bring out certain things from individuals that community workers have not necessarily got the ability to do. Cally Calls has challenged my cynicism about working with arts institutions and been a springboard to do a lot more of those type of things. It has helped me to understand the breadth of the community and how important it is to go beyond the usual suspects.
Tilly Fowler, artist:
Cally Calls enabled a different trajectory for an exchange, making a new space for relating to somebody who I might never have met. It was reassuring to have the structure of the project to support this conversation and strong local knowledge of Team Cally to propell me past assumptions.
More information: