Futurewear - VF Corporation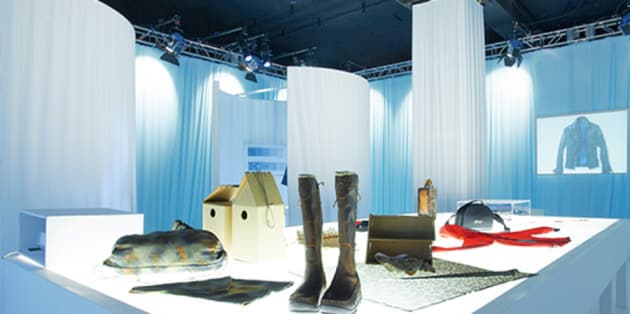 VF Corporation had the visionary idea of developing and hosting an innovation showcase, bringing to life consumer-based trends and key technologies that could influence the development of next-generation apparel. A key aim of this event was to create an interactive environment, which allowed VF Corporation staff to see and experience new and emerging concepts that would help them to identify innovation opportunities, build new networks, and come away feeling inspired and more knowledgeable.
Textiles Future Research Centre contributed to VF Corporation's innovation showcase in a number of ways, including creative direction of the overall event and curation of a section within the show called 'Responsible Living' which was dedicated to sustainable design – this role involved innovating new product concepts.
Textiles Future Research Centre also helped VF Corporation tap into fresh thinking from next generation designers by delivering a student design competition that ran across the University Of The Arts London. The winning results were paraded at a live fashion show. Textiles Future Research Centre also led practical workshops that enabled VF Corporation staff to put sustainable design thinking into action. Overall a formidable team of design-led researchers, designers, students and alumni was assembled and provided a great opportunity to show how Textiles Future Research Centre's research can be applied across a range of commercial contexts in ways that are both inspiring and informative.
The curation process involved researching existing prototypes to exhibit, as well as working with designers to conceive and produce new prototypes in order to realise the vision and potential of the event. The prototypes showcased: closed-loop production methods, zero waste cutting, fast and slow fashion, future materials, advanced weaving, social activism and collaborative community based production models.
Stephen Dull, Senior Vice President and Marty Lawrence, General Manager Of Innovation VF Corporation:
The Textile Futures Research Centre really impressed us with their vision, the professionalism of their approach and the range and quality of their expertise and delivery. TFRC are excellent researchers in their field. They have a unique approach to using technology breakthroughs fused with sustainable design thinking, which many of our brands found really relevant and inspiring.