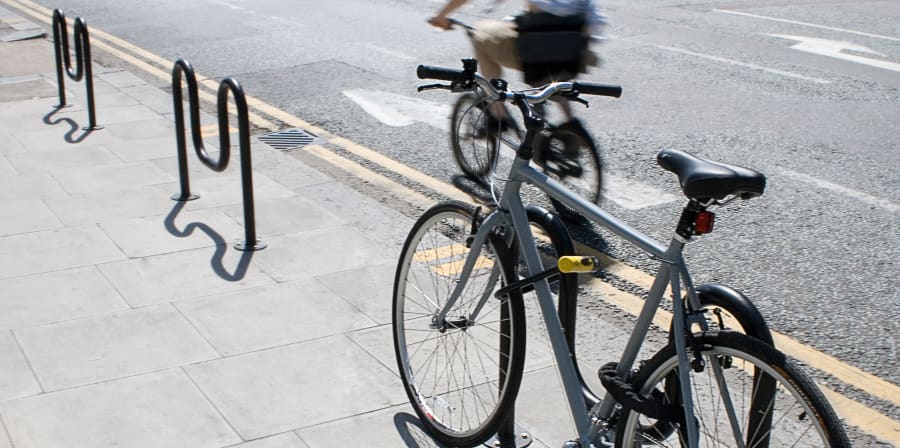 "The M-stand design is a great example of the type of innovative solution to crime that can be made reality given the right support." - Boris Johnson, Mayor of London.
Bikeoff is a practice-led, award winning research initiative of the Design Against Crime Research Centre at Central Saint Martins. It started in 2004 in collaboration with multiple stakeholders with the aim of reducing cycle theft and increasing cycle use through socially responsive and collaborative design.
By researching cyclists' locking practices and analysing how bikes are stolen, the Bikeoff project has explored how design of cycling-related products, environments, services and communications can reduce cycle theft and increase cycle use. By making 8,500 visual observations of cycle parking, the Bikeoff team employed their user and abuser centred research into cycle parking and theft to create a design guide for cycle locking that would be more resistant to common theft techniques.
The guide encourages cyclists to 'lock both wheels and the frame to the stand' through the design of new cycle stands and stickers that promote best practice, and can be retrofitted to existing Sheffield stands. Bikeoff's online design resource www.bikeoff.org also helps designers, architects and police to get smart quick about bike theft and how best to design against it.
The research showed that a majority of cyclists lock their bikes by only securing the top tube of the bicycle to a stand, so they developed a new 'M' shaped stand which promotes more secure locking behaviour by making it easier for cyclists to keep their bicycles upright and lock both wheels and the frame to the stand whilst also adding stickers that promote best practice.
Distributed nationwide through Broxap Ltd, the 'M-stands' have been endorsed by Transport for London and numerous rail companies. Bikeoff informed and supported NESTA's Cycling Challenges' 2012-2013 and the team is widely consulted by crime prevention practitioners, academics and others seeking advice on bike theft prevention.
Other highlights:
Bikeoff has led three national design competitions, which in turn have contributed to the design curriculum of over 40 UK Universities and catalysed UK enterprise via its 'open' online design resource (www.bikeoff.com).
The 'Bicycle Theft Problem Oriented Policing Guide' written by Bikeoff and Jill Dando Institute of Crime Science (published by US Department of Justice) is downloaded 2000 times daily.
In 2006 Anthony Lau won 'Reinventing the Bike Shed' with 'Cyclehoop', which is now a successful product and Cyclehoop Ltd have become an award-winning design practice.
More Information: