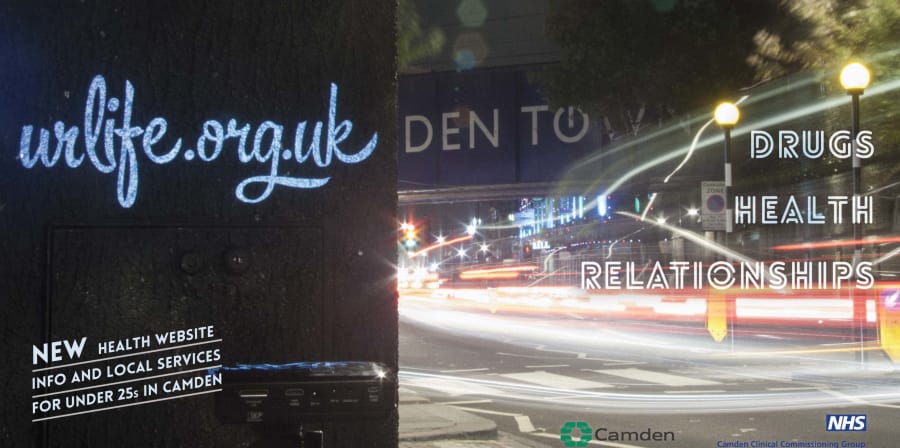 The brief was to extend scope of content, and update audience engagement with a Camden Council web site providing information about sensitive issues surrounding sex, drugs, and mental health, to young people in the borough.
In trying to achieve a relatable tone of voice, we collaborated in the production of a series of videos of walks, bike rides, and skate board trips through favourite places in the area with young people from Regent's High that became the basis for the site. The idea was to position key information and the availability of services as an extension of associations of both familiarity and excitement associated with the neighbourhood, accessible from home computers as well as a range of mobile devices.
BA (Honours) Graphic Design graduate Duarte Carrilho da Graca included young people from the borough in the process and ran workshops and informal design activities so that they could participate and contribute. Local sixth form students from Regent High School and LaSwap gave ideas for links, content and sections and CSM BA (Honours) Graphic Design graduate Frank Wardynski was commissioned to produce the header videos for the website. He worked extensively with local sixth form students, who also feature in the series of short videos filmed on location around Camden.
The end result was a website with a distinct look and feel which met all the requirements of the brief, plus an additional promotional poster design to be used on bus shelters, in schools and youth centres to promote the service to the community.
Camden's Commissioning Manager Dionne Campbell:
Duarte has been fantastic at considering our needs and fusing them with creative design to create a website that will be enjoyed and utilised by many Camden young people. The process has been a good opportunity to reflect the views of local young people and involve art students from local secondary schools in the final design.
Dr Rebecca Ross, Course Leader, MA Communication Design (previously Interaction Design Subject Leader):
It's really exciting to think about how design can amplify the mission of local government and help services become more accessible and meaningful to a diverse community.
Following on from the Urlife website, Camden commissioned a follow-up graduate consultancy project with Duarte and Rebecca to create a website which articulates Camden's local offer for the parents of children with special educational needs.