Makeright in Thameside Prison
Design Against Crime takes design-thinking into Thameside prison to develop resilience and empathy among inmates and create a collection of anti-theft bags in the process.
The Design Against Crime Research Centre at Central Saint Martins has set up Makeright, a ground-breaking design course for prison inmates. The results, a series of bags with inmate-designed anti-theft components, will be sold at Sue Ryder's shop in Camden with all profits going towards hospice and neurological care.
Makeright is unique not because it utilises the making skills of prison inmates but because it combines making and design skills. Over 8 weeks, students create anti-theft bags from beginning to end with user profiles and initial concepts through a series of iterations and prototyping. "Design unlike art, doesn't allow you to design just for yourself," says Lorraine Gamman, Director of Design Against Crime, "You're designing for another, it requires communication and empathy."
There is a sense of restorative justice in convicted criminals designing anti-theft objects, but it goes beyond that. The inmates have natural creative talents even though such skills may have put to questionable use. Visitors to Thameside pass a cabinet of makeshift weapons that have been confiscated from inmates. Makeright's challenge is to redirect that dark creativity and resourcefulness to something more positive. "What isn't displayed are the ingenious things they make to hold their ID cards, to arrange their photographs or unpick the television aerial to get more channels," says Gamman.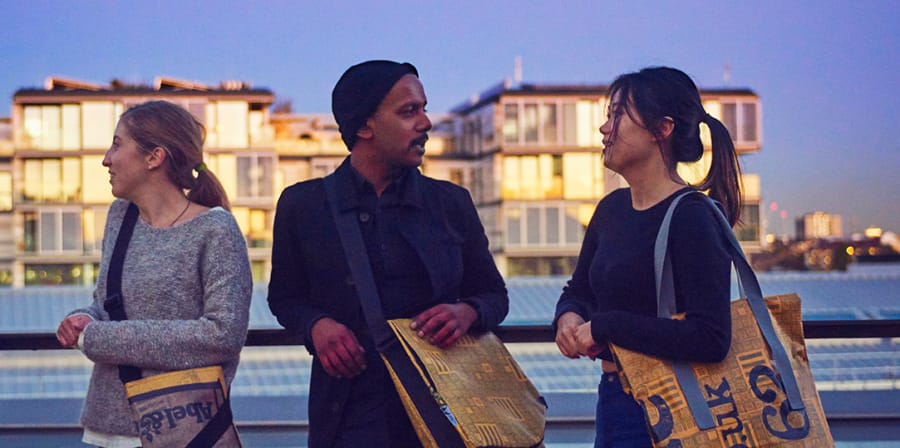 Through initial collaboration at Unbox India with Praveen Nahar of the National Institute of Design in Ahmedabad, the idea of prison as "creative hub" was conceived. Success in getting funding from the AHRC followed and the first Makeright course took place at Thameside in 2015, with the subsequent educational materials tested at Sabarmarti Jail the following year, to confirm the programme could be successful in other prisons.
The Makeright programme is co-delivered by two CSM alumni, Erika Renedo Illarregi and Pras Gunasekera alongside support from design graduate volunteers to facilitate workshops. Gunasekera, a graduate of MA Industrial Design at Central Saint Martins says: "I'm interested in how we can use design to stimulate debate. I'm not interested in making products but in the process and what collaboration does for people." Gunasekera and Illarregi made their home at the textile workshop, becoming part of the everyday landscape at the prison.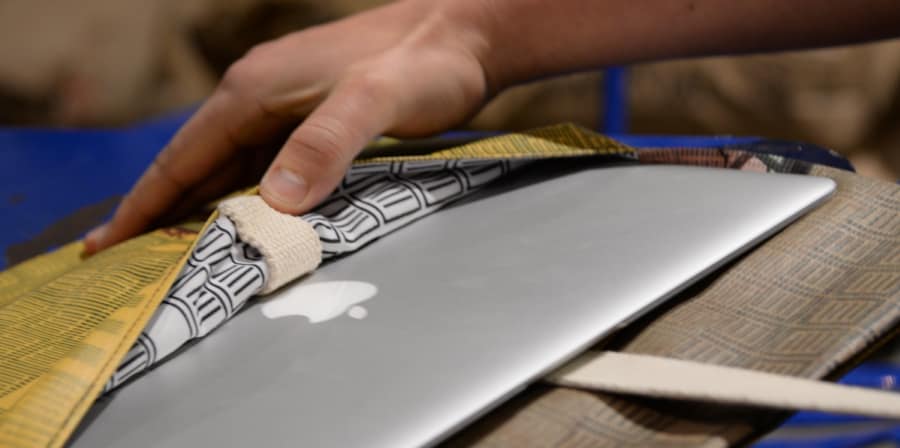 A day within the Makeright programme is organised by a morning of sewing in which the inmates repair linens and fabrics, and build on their skills at the machines. The afternoon is when the designing takes place. The initial workshops dissect the various components of a bag as well as the creation of a user profile, building up the persona and scenario in which they are vulnerable to crime. Many of the inmates selected for Makeright are heading towards their resettlement, on the cusp of leaving the prison and one of the aims for the programme is to encourage empathic thinking.
In terms of process, Makeright emphasises the value of iteration. Inmates are asked to create several ideas, to be flexible and open to the challenges that come along. Within the sessions it is this openness and resilience that is hardest to nurture, but it is crucial to each inmate's progress and is one of the most constructive skills for a life beyond the walls of the prison. "It's a labour of love," says Gunasekera, "you have to be with them, you have to get them to let go." The process of revisiting and reworking designs is, for Gamman, a metaphor for something broader:
The notion that nothing is finished runs through Makeright: your life isn't finished, you're not just a criminal, you can change that. That, to me, is the crux of it.
As leader of prison industries at HMP Thameside, Keith Jarvis says: "Makeright is a breath of fresh air… Working with offenders on employment skills is not exactly revolutionary. But what is different with this course is that inmates learn design skills and knowledge that can be transferred to many aspects of their lives, not only for employment."
As one delivery of the programme gives way to the next, Makeright sees some its alumni become peer mentors for the new members. The initiative isn't meant to produce a new generation of designers but nurture new skills for inmates to call upon when they leave prison. As Gamman says: "Worst case scenario, the guys learn to make bags and cushions. Best case scenario, they learn enterprise strategies they can take through life."
As Makeright became established in the rhythms of the prison, Gunasekera says some inmates found a particular comfort in the space of the workshop:
I've had so many men comment that it is a peaceful space for them. If we have to close the studio for some reason there are men who don't want to go back to the wing. It's a very different environment. There might be moments when it doesn't feel like a prison. Then Erika and I might unlock the door and you're pulled back to knowing where you are.
The first collection has been completed, from a tote bag with a simple, secure flap to a shoulder bag with a design that encourages the wearer's arm held against it for security. The designs are given with inmates at Kilmarnock Prison to be manufactured, as its textile unit can more easily complete production runs.
Across three prisons and two continents, Makeright has taken many hours and many hands to bring into being. With the first cycle nearly complete, from design and prototype to production and sale, now is the time to celebrate its achievement and build on it for the future. Lorraine Gamman says:
My plan is not only to democratise innovation and encourage inmates to work with their creativity, but also to take new types of people into prison. As Einstein said "We can't solve problems by using the same kind of thinking we used when we created them." We have to take in different types of people and different types of thinking. It's part of a slow revolution to change it.