Empathy and Employment - Somers Town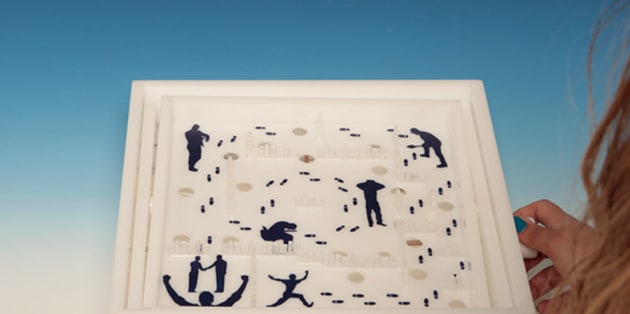 This project was inspired by the expectation that empathy between societal actors may foster greater collaboration and contribute to the conditions for social innovation. It explored the role and potential of design in connecting conflicting actors through co-designing in response to shared concerns.
With the assistance of BA Product Design students from Central Saint Martins, the project brought together employers and residents in a rapidly developing but relatively deprived area of London (Somers Town) to co–research and co-design empathic 'things' (described by Binder et al as "socio-material assemblies and interactions around issues of concern") so as to help bridge a gap in expectation and understanding between them.
Through a collaborative process students designed objects and interactions, which enabled employers and residents to communicate creatively a wide spectrum of emotions about their needs, challenges and aspirations related to job seeking and recruitment, and to understand and empathise with each others experiences and perspectives.
A book has been created to chronicle the scope of the Project, which is available through Camden Council, the Somers Town Community Association and the UAL DESIS (Design for Social Innovation and Sustainability Lab)/Design Against Crime Research Centre.
Emma Jonsson, student:
To be a part of this highly collaborative project was incredibly challenging, but also deeply rewarding. It gave me a completely new approach to product design and showed me the impact design can have to address social issues if we let it.

We had to completely trust each other and the process led us to become better designers fitted for collaborative projects around products and beyond. To get the opportunity to work together with real people in a local community has given me as an emerging designer, the edge and tools to embark on a new pathway and engage with social innovation design projects in the future.
Adam Thorpe, Project Lead, UAL DESIS Lab:
This creative, collaborative experiment concluded that stakeholder collaboration in co-research, and co-design is itself an impactful empathic "thing" that fosters empathy with and for participants in the design process. Evidence of this finding is qualitative and limited to feedback from participants. However, it does suggest potential for further activities of this kind as a means of building cooperation and collaboration between different groups of people with different perspectives on shared challenges.