How Graphic Communication Design can encourage kidney patients to take creative control in cooking
In 2014, Luise Vormittag Lecturer in Graphic Communication Design at Central Saint Martins, was approached by Vitals Arts. The arts organisation for Barts Health NHS Trust suggested the Renal Ward at the Royal London Hospital as a potential site for a design intervention.
"We approached the ward with one question: what kind of design intervention would improve patient experience? We had assumed it would be an interior design project, but really what people wanted to talk about was food. It's such a focus because patients get so frustrated by it."
Luise Vormittag
Patients whose kidneys are failing are treated with dialysis, a process that filters their blood. Dialysis takes five hours a day, three times a week so requires regular trips to the hospital. "It's an outpatient ward but everybody knows each other," says Vormittag, "there's a collegial atmosphere. Patients exchange tips and tricks because the condition is what they have in common. Individual patients may know how to adapt one or two recipes but we wanted to create a platform that enables them to share that knowledge."
Vital Arts and Central Saint Martins were awarded a collaborative research grant from Creative Works London to determine what kind of design intervention would improve patient experience on the ward. Quickly, Vormittag realised what herself and the students on the Graphic Communication Design programme could offer was a format for knowledge share, a way to collect informal recipe alterations the patients had, up until then, navigated on an individual basis.
Patients on dialysis have a very restricted diet, which makes it difficult to prepare flavoursome meals, and often those meals feel specialist and compromised rather than inclusive for a whole family sitting at a dining table. Non-white ethnic groups have a higher risk of developing kidney failure, and yet there are no recipe books available that reflect culinary and cultural diversity. Advice given to patients is often about what not to eat, the things to avoid, so this project sought to turn from the prohibitive, to highlight the creative approach of cooking for such a specialist diet.
What emerged from the first phase of this collaboration was a set of recipe cards based on recipes sourced from the patient community on the ward.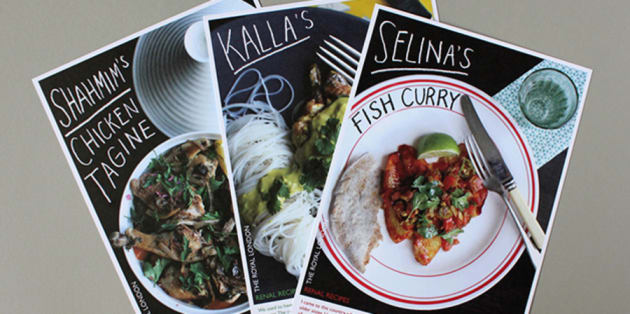 Fast forward to 2017, when Vital Arts was invited to work with Tate Exchange, and the project entered into its second phase. Just a few days before World Kidney Day, Vormittag presented the project at Tate Modern to a collection of NHS dieticians, patients and their families as well as visitors to the gallery.
Alongside the recipes cards and conversations about diverse renal recipes, three MA Graphic Communication Design students – namely Eva Afifah Rd, Savannah Bader, Daniela Barbeira – worked on a stop-frame animation. While Bader had experience of origami, this was her first time making an animation with paper props as well as being her first time creating work in a public space.
"Obviously, I'd be lying if I didn't say the Tate didn't draw me in, but what interested me most was creating something that shares – and goes someway to solve – a problem. It's not my normal way of working, because social issues and health issues don't often get enough airtime."
Savannah Bader
Based on the fifth floor of the Tate, Bader and her fellow students worked with handmade paper props to animate the recorded voice of Kalla, a patient who Vormittag had met on the initial trips to the renal ward.
The film pushes forward the idea of sharing tricks and tips for integrating healthy food into patients' diets while not losing sight of how enjoyable food can be. It also harnesses the power of design to repackage and reframe information, as Vormittag explains: "Visuals are key. People told us how important it was that these recipes were visually exciting. Taking this forward we would like to demonstrate portion size rather than simply writing out measurements. And we discussed plans for a traffic light system to communicate the amounts of salt, potassium and phosphate. Different people are allowed different amounts, so you need a system to show the variables."
Feedback from dieticians, patients and supportive organisations such as the British Kidney Patient Association has been universally positive. With each step, Vormittag and her students refine the facets of the possible publication. While the project continues to be a learning opportunity for Central Saint Martins students, the ultimate hope is to gather together partners and publishers to make an entire recipe book a reality, to move from potential to impactful, to help kidney patients find creative agency in their cooking and reconnect with the pleasure of food.
Project leaders: Rachel Louis & Neesha Gobin (Vital Arts) and Luise Vormittag (CSM)
Researchers: Patricia Austin, Sonia Kneepkens, Kerstin Rodgers
Recipe developer, food photographer and stylist: Kerstin Rodgers aka Ms Marmite Lover
Dietitian: Danielle Creme
Documentary Filmmakers: Amy Haigh, Jacob Hobbs
Animators: Eva Afifah Rd, Savannah Bader, Daniela Barbeira