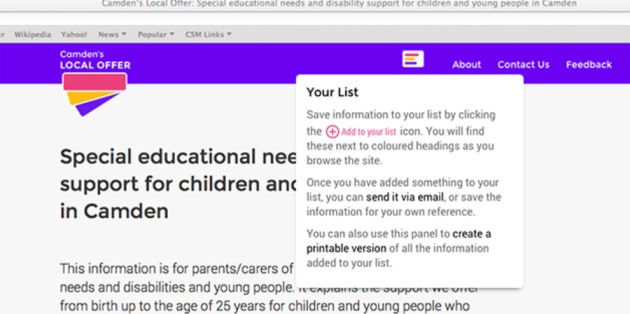 Following the successful Camden Urlife project, Camden Council commissioned another graduate consultancy project with the same team led by Dr Rebecca Ross (MA Communication Design) working together with Duarte Carrilho de Graca and Sion Fletcher.
The project was prompted by the fact that as of September 2014 every local authority is required to publish its 'Local Offer'. The Local Offer is information, provided in one place, about all the support that is available for children and young people from birth to 25 years who have special educational needs and / or disabilities.
This project facilitated genuine user-participation by working closely with a group of parents of children with special educational needs and disabilities to iteratively review and amend design and functional elements of the new website to ensure that information was provided in the way that the parents find most useful.
Over 70 pages of content were organised in a modular accordion system giving the visitor the opportunity easily locate and navigate sections most relevant to them, and bypass irrelevant sections. Users can create a tailored page to suit their individual needs. The website allows users the ability to share a link to the site with any set of user-defined sections opened. A print optimised version of the website was developed with non-internet users and educational and health professionals in mind.
Thinking about the diversity of user requirements the website was delivered in adherence with Disability Access Standards and upheld each of the four POUR principles (an accessible site is: Perceivable, Operable, Understandable, Robust).
The new website has been received very positively by parents and SENCO's (special educational needs coordinators) in schools across the borough, and is now widely used.
Through working with Central Saint Martins, and compared to other local authorities' delivery of their Local Offer to date, Camden Council have set a benchmark in the UK, pushing the boundaries to create something that is responsive to the community and their needs.
Alan Loviette, SEND Programme Manager:
It was a pleasure working with the team at Central Saint Martins. In particular we very much appreciate the time and sensitivity shown by Duarte and Sion in their engagement with parents.
Duarte Carrilho da Graca, MA Communication Design graduate:
It was fantastic to develop work with such an impact in the local community. The co-production with parents of children with special educational needs as a key aspect of the project was an especially important learning experience.
Following discussions with Adult Social Care, Camden Council wanted to proceed with expanding and developing the website for the Local Offer to take in to account the requirements of the Care Act as well as the Children & Families Act – to develop a solution for both children¹s services and adult social care.
More information: