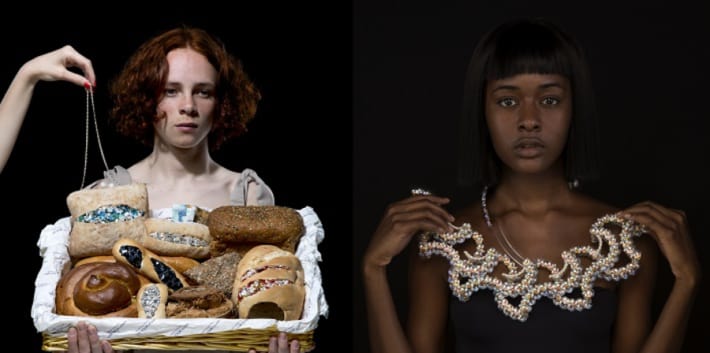 The Swarovski and Central Saint Martins Jewellery Design project, now in its 16thyear, challenges CSM 3rd year BA Jewellery Design students to push the boundaries of creativity and innovation with crystal in jewellery design.
From the 46 students who began the project, ten were shortlisted and supported by Swarovski to realize their concepts and exhibit their developed collection in the degree show, working to the thematic brief of 'Vanishing Worlds'. The importance of sustainability and responsible practice is underlined by the use of crystal and gemstones from Swarovski's upcycling program which seeks to repurpose unused products into new materials.
Kristina Ferenchuk (above right) won the award for her piece, which explores how human activity has contributed to vanishing ecosystems in the last decade. The Swarovski embellished concertina necklace represents the interconnection and symmetrical balance of the different organisms within nature. Runner-up Ruby Parker (above left) was also highly commended for her bread-based pieces entitled 'Use Your Loaf'. Her impactful collection used Swarovski crystals to highlight the value of food and the issue of food waste.
Vanishing Worlds is a welcome theme as it makes people think broadly. This year's project highlights an array of interpretations, from vanishing ecosystems to the vanishing custom tailor, and it fits into an increasing need and drive towards an awareness of sustainability and responsible practice.

Caroline Broadhead, Programme Leader and Course Leader, BA Jewelry Design, CSM