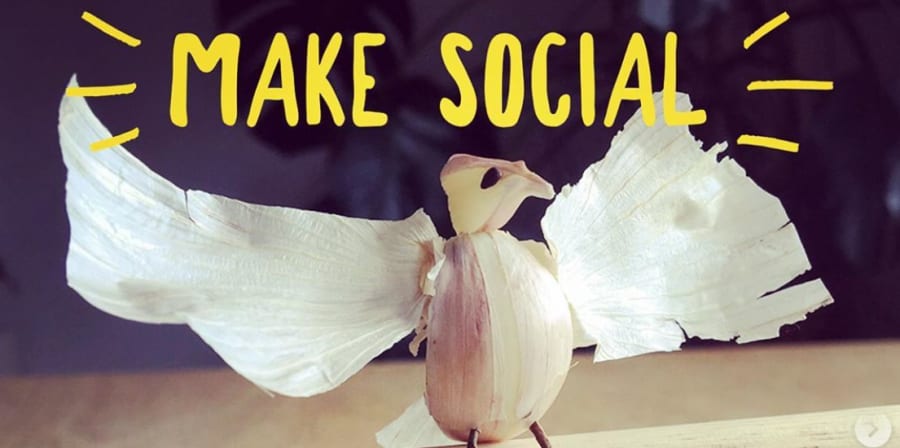 MAKE Socials launched as a pilot participatory design project online in May 2020 at the outset of the Covid-19 pandemic.
The aim of the sessions was to translate some of the collaborative practices of making within the site to an online context, connecting with existing members and users of MAKE @ Story Garden.
The facilitators and participants convened to take part in the week-long design sprint, making an object together, by checking in at three points over the course of the week. Importantly, the sessions focused on discussion and critical reflection of the task between the group, particularly aimed around tackling feelings of loneliness during Covid-19.
The first week of MAKE Social focused on the theme of communication. Participants were asked to make a sign to send to friends, family or themselves. This created further discussion about protest art, graphic design and how a message can be told in numerous, creative ways.
The second week of MAKE Social focused on bringing the outside in. Participants discussed Ikebana; the Japanese art of flower arranging, and how the natural world can be used to decorate the home. They also discussed camera obscuras, and how to change your home into a pinhole camera. To end the week, participants meditated in a live ritual which connected them back to nature.
The third week of MAKE Social focused on making magic from rubbish. Toilet rolls, crystals and magic all contributed to our main theme for the week. A task was devised to encourage object-based making, with the potential to see value in the things we discard around the house. Reference images ranged from the sublime to the ridiculous. They included illusionary works from Sue Webster and Tim Noble. They also included narrative-based concepts of mask-making and cardboard fabrication.
Make a playful solution from a practical problem
The fourth week of MAKE Social asked participants to find a playful solution to a practical problem. It arose from discussion around play, and how children use spaces and objects when they are in charge. It asked how adults can learn through observation by seeing different users at play.
Make a hat
For the final week, after discussions about swans, milliners and our own heritage, the facilitators set a playful task for the week; Make a hat to express yourself. All participants were asked to make paper hats. Some of us even attempted more ambitious paper fascinators and ten gallon paper hats. This session received some great feedback, with one new regular saying, 'When I first came I didn't know what to expect, but I like it so much I've asked to receive the link to the event every time.'