Friends of Drama Centre London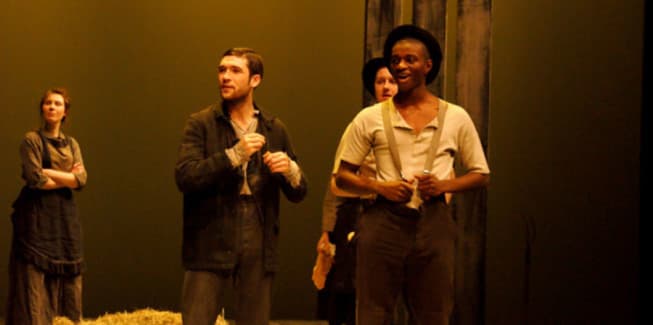 Since the merger of the Drama Centre London with the University of the Arts London in 1999, most Drama Centre London undergraduate students benefit from access to student loans, pay only the standard national tuition fee and may receive means-tested assistance with their fees from their local authority.
However, such help is not available to postgraduate students, to undergraduates who have already completed another course in higher education and to Foundation students. These, alongside our overseas students (so important to the international outlook which has always been a key feature of the Drama Centre London), continue to be in severe need. More often than not, they are joined by British students whose loans prove far from sufficient to cover the cost of living in London.
Their need is made all the more acute by the demands of the famously intensive training of the Centre, with its long hours, extended terms and requirements for in-depth preparation. As a result, former students have set up the Friends of Drama Centre London. The Friends of Drama Centre London is a trust and a charity, entirely independent and dedicated to support Drama Centre students in the pursuit of their goals to become actors, directors and writers.
The Friends of Drama Centre London was set up specifically to raise funds to alleviate student need. It is led by an independent committee composed of former students from all generations, including:
Philip Benjamin
Dominic Colenso
Caroline Devlin
Poppy Elliot
Tara Fitzgerald
Diana Fraser
Rupert Frazer
Aaron Harris (Chair)
Anthony Howell
Matthew Mellalieu
Vladimir Mirodan
Jack Shepherd
David Sibley
The Friends rely entirely on membership fees and donations in order to support student welfare. Every penny raised by The Friends is put towards helping individual students and they are currently able to distribute around £5,000 each year from their own funds as well as an annual Yat Malmgren Bursary worth £4,000. They also administer scholarships and bursaries generously donated to the Drama Centre London by charitable foundations, including:
The Alexander Foundation
The Henry Cotton Memorial Fund
The John Lyon's Charity
Leverhulme Scholarships for home and international students
The Lilian Bayliss Scholarship
The Reeves Foundation
The Royal Scottish Corporation
The Sir John Gielgud Charitable Trust
The first Chair of the Friends of Drama Centre London was Frances de la Tour, who wrote:
"I was a founder member of the Drama Centre and remain indebted to the training I received at this unique school. Like most students, I struggled on a grant from my local authority. Nowadays, however, many young people who wish to follow a creative path must do so without support for their tuition fees or living expenses. It is often applicants from the major population centres (and that includes particular ethnic minorities) who are worst hit.
"Potential talent is lost because many cannot contemplate taking a course without funding; some have to give up their training mid-course, while others face poor living conditions.
"The long-term effects of this are incalculable, but it is obvious that preventing many of our most talented young people from entering the profession will inflict immeasurable harm on the theatre, film and television industries, so internationally renowned, precisely because of the standard of our actors.
"Here is a unique chance to be of real assistance to the most talented artists of the next generation. I would be grateful for your help."
Benefits of Membership
There are two categories of membership:
Individual member £35.00 per year
Member and guest £45.00 per year
Members are entitled to:
Advance publicity leaflets for all forthcoming presentations
Free entry to all public student productions, film screenings and showings
Concessionary rates for attendance at exclusive Friends events, with opportunities to meet distinguished visitors
Newsletters outlining the use to which funds raised by The Friends of Drama Centre London have been put and keeping you informed about developments at the Centre as well as about former students' careers and achievements.
For more information or to become a member, please email Diana Fraser.