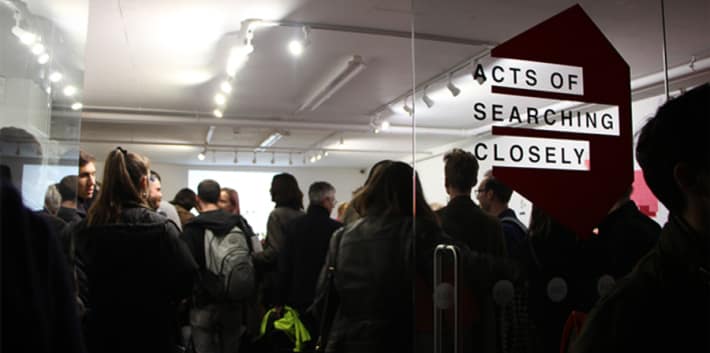 Over the course of their final year, nine MA Culture Criticism and Curation students undertook a project with Artists Studio Company (ASC), a registered charity, which provides affordable studio spaces to artists. They presented an exhibition and programme in the ASC gallery space, located within the Aylesbury Estate in Southwark, South London, early November 2016.
Research and development (April - July 2016)
We are a group of nine MA Culture Criticism and Curation students who have recently undertaken a project with Artists Studio Company (ASC), a registered charity, which provides affordable studio spaces to artists. We will be presenting an exhibition and programme in the ASC gallery space, located within the Aylesbury Estate in Southwark, South London, in early November. The estate, built from 1963–1977, is one of Europe's largest social housing estates and is in the midst of being redeveloped. As such, ASC gallery's tenure at the Aylesbury is limited.
After undertaking individual research, our group compiled and distilled this information into two questions that will inform the trajectory of the project: How do you fill a space? How will we remember the now?
Working in collaboration with local residents and organisations, artists and practitioners, the group is hoping to use the gallery space as a functioning 'research centre' as a means of investigating these questions, for anyone interested in the past, present and future of South London. We are interested in exploring the legacy of the redevelopment process in South London, and the spatial implications of this change. As properties are earmarked for demolition, people and infrastructure are hastily 'decanted', but often these spaces remain empty for years at a time; temporarily and partially occupied, or sealed and boarded up, stuck in a development limbo. At current, this feels like a period of transience, change, uncertainty and hope, and we are interested in how this will be reflected upon in the future.
Project delivery (July - October 2016)
Between November 2-11, we will be turning the Artists Studio Company Gallery into a functioning multidisciplinary research centre and inviting members of the public to take part. Over summer, we have been busy trying to get this event ready, such as finding and commissioning artists, deciding how to use the gallery space, and continuing to talk to local communities and residents. Watch a short video about how we have been working.
Project completion (October - December 2016)
Acts of Searching Closely was a 10-day exhibition at the ASC Gallery, Walworth, London from 1 - 10 November 2016. The exhibition used the gallery as a functioning 'centre for research', which saw 14 artists and 9 curators use the space to respond to the questions 'how do you fill a space?' and 'how will we remember now?'.
The responses were varied, with the collaborators producing artworks, research dossiers, workshops, events and films. The project wanted to open-up and reject the 'normal' answers to questions of space and place in central London, we wanted to problematise that presumed narrative of 'regeneration'1.
The exhibition had a varied and busy programme with events and interventions throughout the ten days it was open. The private view attracted over 150 people, and two artists gave performances. One of the artists, Alex Bodea, created Visual notes of a non-tourist in London, a cinematic reading which presented her research into the creative process of some of the artists and curators involved in the exhibition, as well as other aspects of her one week stay in London. Developed especially for the exhibition, this performance was exemplary of her work, which stands at the crossroads of visual art, journalism and poetry, fuelled by a desire to witness and record.
Another of the performances was Camilla Brueton's YOU ARE HERE: now, not then, a visual essay made especially for Acts of Searching Closely. The work brought together texts and images that reflect on a shifting urban landscape. The essay was performed for the opening night and screened at the off-site artist film screening at DIY Space for London.
The success of the project lay in our persistence to act upon our initial intentions. The efforts of all members of the group, alongside our commitment to our collaborators, remained high throughout the whole process. The ambitious goals we set ourselves were successfully realised in the quality of the artists, the exhibition installation and the programme, which was supported by money raised through our Kickstarter campaign. The financial support meant that the artists could create work that they could not have otherwise made.
If the exhibition sought to play with the idea of research, some questions, perhaps, remain unanswered. Is it enough to simply produce a range of research outputs, or should research be directed to a singular goal or objective? Acts of Searching Closely presented varied artistic responses to the two questions. The exhibition was received well critically and many visitors engaged with our invitation to ask the curators questions. Our timeline documented the curator's responses to audience questions - and the wall was filled.
A key consideration, and achievement, was to avoid unnecessary waste in producing the project. As a result, we were committed to using borrowed and recycled materials where possible. We tried to stay true to the concept at every stage of the project and to navigate the sensitivities of the difficult situation of the Aylesbury Estate within the Southwark regeneration scheme with awareness.
The project website collects and presents the various research threads in a single place for the first time. What they could look like together is still very much an open question. What other research, discourses and actions could this collected research start?
Although it is currently beyond the control of the curatorial team, this problem does highlight the dual aspect of authorial intent: whether the show stakes a space between the agency in proactive commissioning, presenting and completing research, with the unknown, unlimited and unmanageable directions in which future research may in fact head.
What were we trying to find out and what did we manage to find out? It is too soon to tell.
1. To regenerate means to improve a place or system, especially by making it more active or successful. In terms of housing it is closely ties to gentrification. An area is seen as an opportunity by developers, regardless of what is already there, and can be 'improved' drastically. This improvement changes the area, displacing those who originally lived there, and orientating the space around profitability and financial considerations rather than personal ones.