Tokyo Institute of Technology (Tokyo Tech) is the foremost university of science and engineering in Japan. Over the past few years, staff from Central Saint Martins and Tokyo Tech have been inspiring each other through best practice and research in efforts to remove disciplinary boundaries.
This project is part of a transnational and transdisciplinary collaboration exploring methods and mindsets of the disciplines across art and design and science and engineering. The project began in May 2018 with a public symposium exploring 'The Experiment' and has since developed three Research Residencies and two Visiting Professorships in Tokyo for Central Saint Martins faculty, an innovative Scientist in Residence programme hosted at Central Saint Martins and many exchanges, seminars and public events engaging students and staff from both institutions.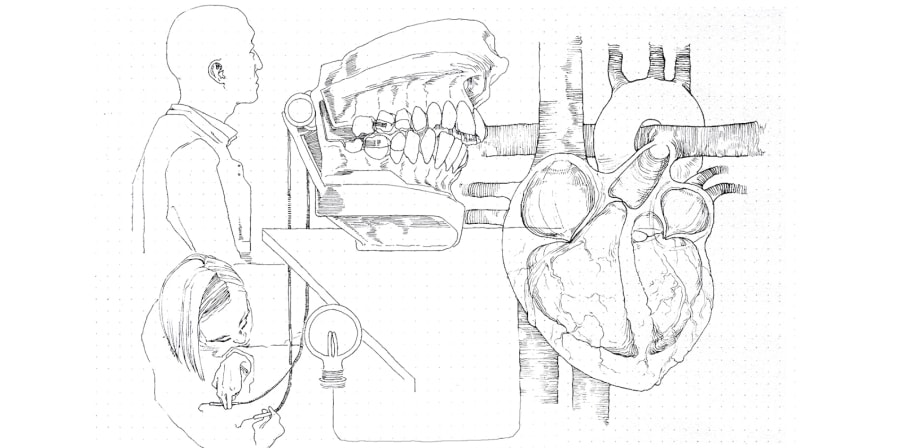 Hacking Hearts, November 2019
A project of translations and transformations between cardiovascular science and art and design practice.
Hacking Hearts reimagined cutting-edge scientific research centred on heart disease, energy harvesting and cellular sensing, as seen from art and design perspectives. Researchers and scientists from Tokyo Institute of Technology and Queen Mary University of London collaborated with the College's staff and students, offering their research to be hacked by postgraduate students. Following a week of trans-disciplinary experimentation, the public were invited to interrogate and explore what happens when artists and designers hack scientific research.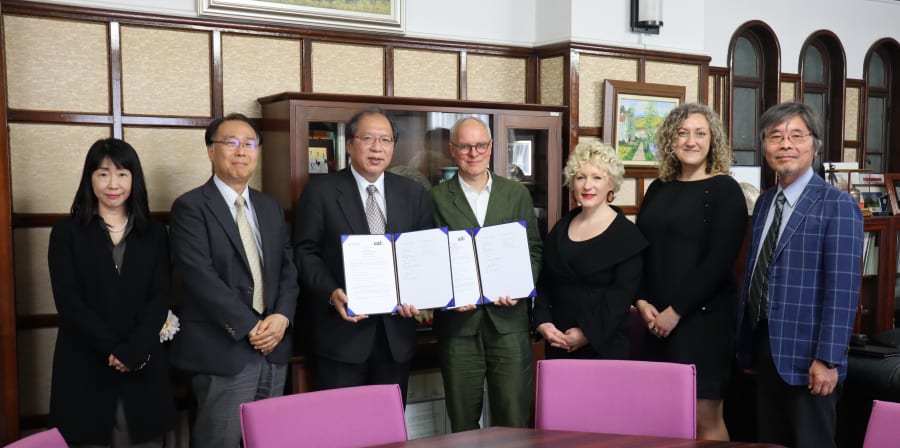 Memorandum of Understanding, May 2019
Signalling an important milestone in the collaboration between our institutions, a Memorandum of Understanding was signed in Tokyo on the 15 May 2019 between Central Saint Martins and three schools of the prestigious Tokyo Institute of Technology: School of Engineering, School of Materials and Chemical Technology and School of Environment and Society. It officially formalises our partnership, promoting collaboration in academic research, education, staff and student mobility and university-industry enterprise.
After a meeting between Tokyo Tech President Kazuya Masu and the Head of Central Saint Martins Professor Jeremy Till, the signing ceremony took place. It was attended by Prof. Mitsuji Sampei (Associate Dean of School of Engineering), Prof. Yuji Wada (Dean of School of Materials and Chemical Technology), Prof. Norihiro Nakai (Dean of School of Environment and Society), Prof. Shigeki Nakagawa (Director of International Cooperation Office, Engineering Schools), Prof. Kayoko Nohara (School of Environment and Society, WRHI research hub member), and Prof. Till, Rachel Dickson (Dean of Academic Programmes, Central Saint Martins), and Gemma Proudley (International Partnerships Development Manager).
---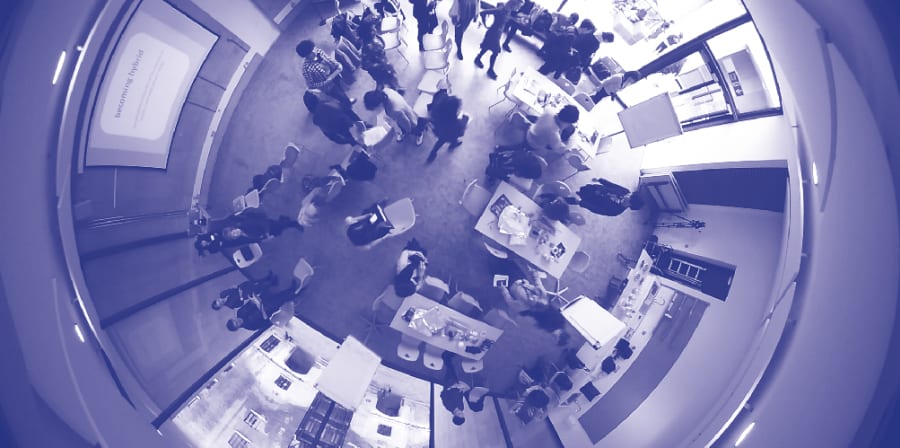 A colloquium on transdisciplinarity and collaboration marked the signing of the memorandum.
Becoming Hybrid – Transdisciplinarity at the Crossover of Science and Technology and Art and Design charts the collaboration between Central Saint Martins and Tokyo Institute of Technology since it started in 2017. It celebrates achievements so far and makes the case for why transdisciplinarity and collaboration across disciplines matter and what they can contribute in an increasingly fragmented world.
Dr Betti Marenko, Heather Barnett, Kayoko Nohara, Dr Ulrike Oberlack and Hiroshi Tsuda jointly authored this paper for the signing of the memorandum of understanding MoU between Central Saint Martins and the School of Environment and Society, School of Engineering and School of Materials and Chemical Technology at Tokyo Institute of Technology in May 2019. Coinciding with the signing of the MoU the Becoming Hybrid colloquium at Tokyo Institute of Technology successfully introduced the paper and its collaborative methods to participants from a wide range of disciplines at Central Saint Martins and Tokyo Institute of Technology. The authors hope the paper will be an inspiring tool for sharing ideas, strengthening the collaboration and imagining possible futures together.
Becoming Hybrid Inaugural Joint Postgraduate Workshop, March 2019
WHRI professorships, 2018-2020
Dr Betti Marenko and Dr Ulrike Oberlack, from Central Saint Martins, are Specially Appointed Professors in the Social Implementation Research Unit (SIRU), Tokyo Tech, working in close collaboration with Professor Kayoko Nohara's Laboratory.
The key goal of this project is to foster research with an impact on the real world. It addresses social problems by integrating new findings and technologies, focusing on product development, social infrastructure and administrative services with clear social and economic benefits. The value of transdisciplinary collaboration is recognised as essential to the development of leading research aimed at social implementation, where stakeholders (from industry, private sectors, media etc) and researchers from a number of fields come together to co-design, co-produce and co-deliver research outcomes.
Marenko's activity during her first three-week stay (Jan-Feb 2019) was two-fold. Firstly, teaching an accredited course using her approach at the intersection of Western philosophical thought and design studies to locate and interrogate received notions of technology. Also continuing her collaboration with Professor Nohara focusing on transdisciplinarity to underpin future work across science and technology and art and design.
Oberlack's research programme for a six-week residency (Nov-Dec 2018) focused on a research experiment in which hybrid methods revolving around visual engagement and material thinking were further developed and tested. The research experiment picked up on the programme of her 2017 teaching residency and the Existential Wearables project, and took the form of an accredited course for undergraduate students. Oberlack and Professor Nohara started to synthesise observations and findings to develop hybrid methodologies fostering transdisciplinarity.
Both Marenko and Oberlack will be returning to Tokyo in early 2020.
---
Existential Wearables, July – September 2018
"Existential Wearables" is a collaborative project merging art and design practices with science and technology research to speculate on the future of wearable technologies for young people in Tokyo. The project has grown out of the CSM x Tokyo Tech Teaching Exchange, a programme of residencies that took place in 2017/18 and was hosted by Professor Kayoko Nohara whose lab researches translation studies between languages, cultures and disciplines.
The 'Existential Wearables' project, funded by Tokyo Arts Council, investigates how wearable technology might impact on the daily lives of Tokyo-ites in the future. Students and staff at Tokyo Tech and other institutions, plus members of the general public from a wide range of professional and cultural backgrounds, devised and developed ideas in a series of 'cafes' and workshops leading up to a 'Wearables Hackathon' in July 2018. Designed and facilitated by Barnett and Oberlack, the Hackathon developed initial concepts into models and scenarios. Extending ideas for future urban wearables beyond pure functionality into philosophical realms, the models and designs produced by the interdisciplinary teams speculate how Tokyo might change in the next decade and how wearable technology might facilitate those changes. Prototypes reflectes concerns about environmental changes, the search for personal space and the challenges of meaningful interpersonal communication.
It is hoped that the "Existential Wearables" will be developed on a larger scale as part of the cultural programming for Tokyo 2020.
Residencies, 2017-18
Over the course of 2017/18, Tokyo Tech hosted three Central Saint Martins academics in Professor Nohara's laboratory in the Department of Transdisciplinary Science and Engineering. The three members of staff selected are Ulrike Oberlack (MA Design: Ceramics, Furniture, Jewellery), Betti Marenko (BA Product Design) and Heather Barnett (MA Art and Science).
Ulrike Oberlack visited Tokyo Tech in October 2017. Her teaching programme aimed to introduce Japanese students to a range of design projects engaged with science and technology, followed by a practice-based experience of how such a design approach works, based on Oberlack's practice, PhD and postdoctoral work in wearable light. Her proposal links to Tokyo Tech's Materials Research Hub through shared interests in flexible sensor, OLED and quantum dot technologies.
Betti Marenko visited Tokyo Tech in Feb 2018. Her teaching programme included a four-week elective course for undergraduate and postgraduate students on the impact of technology on contemporary society. Her overall objective was to encourage a contextualisation and critique of established notions of technology – in planetary computation and, more broadly, the Anthropocene.
Heather Barnett visited Tokyo Tech in March 2018. She ran a series of public events and workshops to share her research practice working with living systems spanning from thinking of the city as an organism to absurdist games exploring how a communication system could exist within the human body. Another priority for Barnett during this residency was to move the collaborative Wearables project forward.
---
The Experiment, May 2017
The conversation between the two institutions began with a one-day symposium titled The Experiment in May 2017 in Tokyo. At the opening of the event, Head of College Jeremy Till presented a provocation for the day:
"Normally science and art are seen as separate spheres, each with their own methods of working, thinking and doing… This is indeed how universities and school curricula are divided, with students identified as belonging to one tribe or another… As the global situation has become ever more complex and fluid, we need multiple and hybrid ways of thinking."
Taking "the experiment" as a way into discussion, Heather Barnett (MA Art and Science) and Carole Collet (Professor of Design for Sustainable Futures and Director of the Design & Living Systems Lab) shared their research and strategies. In the second session chaired by Professor Kayoko Nohara focusing on Art, Science and Technology, Professors Katsuhiko Hibino, Dean of Art at Tokyo University of the Arts and Professor Shigeo Hirose responded with their perspectives on the "experiments" they conduct on a regular basis in the fields of art and robotics respectively. The concluding session with Jeremy Till, Professor Asa Ito from Aesthetics and Professor Akihiro Konagaya from Molecular Robotics was moderated by the Institute Professor and a highly distinguished journalist, Akira Ikegami.