Alumni of Colour Association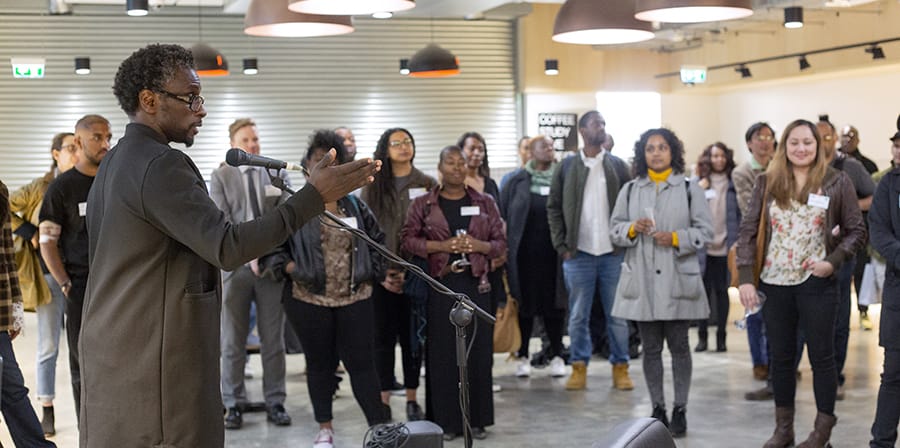 The UAL Alumni of Colour Association is a supportive community to help increase the visibility and representation of people of colour in the creative industries.
They create opportunities to share ideas, knowledge, skills, stories, and networks to increase confidence and spark empowerment.
How can I get involved?
Let us know you want to be part of The Association and we will send you tailored news, opportunities and events on behalf of the committee. Contact: alumni@arts.ac.uk
Attend our events and bring along your alumni friends to help grow the network
Have an idea for an event? Want to be a guest speaker? Have a venue we can use for an event? Get in touch with the Alumni Team: alumni@arts.ac.uk
The Committee
All committee members are alumni volunteers, led by a president, who work on ways to unite and support their community by planning events, communications, and creative projects.
UAL Alumni of Colour Association: End of Year Showcase
Tuesday 26 November 2019
6.30pm – 8.30pm
Platform Bar, CSM Granary Square
We are hosting an evening of storytelling and performance from the diverse talents of UAL's creatives of colour. Join us for this fun-filled night of fusion-live art – and for your chance to join a supportive network of alumni.
The evening will consist of several talented performers who will present their craft in 5-10 minute slots throughout the night, as well as drinks and networking.
We currently have a fantastic line up of alumni of colour but want the evening to be as vibrant and as inclusive as possible, so would love to hear from performers/speakers/poets/singers/entrepreneurs/artists who also want to showcase their craft.
Meet the committee