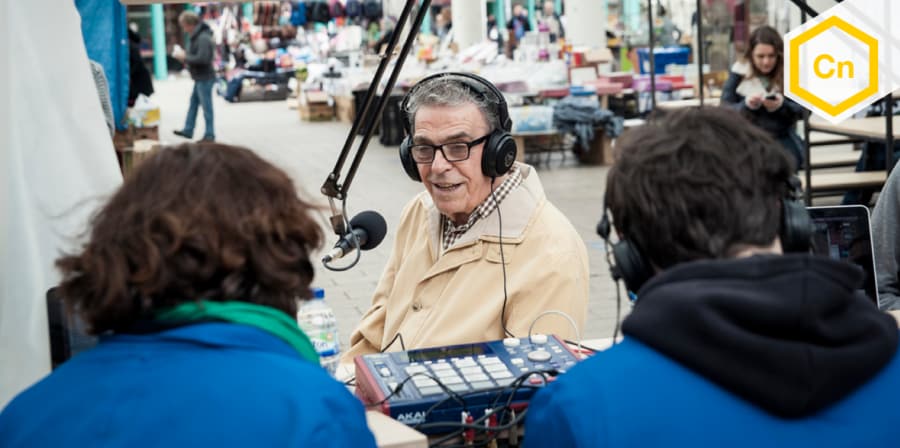 Creating a successful creative business is rarely the work of one person and there are often real benefits to working with others who have different skills to you.
"Collaboration is absolutely key to our model," says landscape architect Susanne O'Connell, one of four interdisciplinary practitioners who make up the architectural design collective The Decorators.
Susanne studied MA Creative Practice for Narrative Environments at Central Saint Martins (CSM) between 2008 and 2010, where she and the three other Decorators developed the skills that paved the way for what has become a successful business based on collaboration.
Collaboration was built into the fabric of the degree course. It brought together people with different skills and there was lots of variety in the types of projects we did.

Susanne O'Connell, The Decorators
It was these experiences, of having collaborated extensively within the degree environment, and learning the skills of successful collaboration, which Susanne attributed to the initial development of The Decorators.
A collective approach
After completing their MA courses in 2010, Susanne, along with architect Mariana Pestana, spatial designer Xavier Llarch Font and psychologist Carolina Caicedo, decided to form a collective.
Susanne took part in the Business Boot Camp at CSM and subsequently applied for SEED Funding, which gave The Decorators access to high-quality business mentoring, in the form of mentor Paul Sturrock, director of Slingshot Venture Development. They found the mentoring with Paul so useful, they have developed an on-going relationship with him and three years on he continues to give them business advice. A second boost came in the form of a Start-Up Loan from UAL, which helped the collective to buy some of the equipment they needed to set up their studio.
Their first break came when they were asked by JAM, where Xavier had done an internship, who were curating the 100% show, to develop a space in the New Designers area, which was a great chance to learn more about each other's working practices. At that time, each member of the collective was also working as a freelancer and pursuing their own projects, and Susanne says it has taken them a long time to build up their joint work to the point it is at today.
It was two years later the quartet decided to formalise their company and became a limited partnership, which Susanne said gave them a stronger business structure and encouraged them to define their goals as a collective more fully, and now, after three years working together, Susanne said, they were starting to refine their business model and create a balance between doing the jobs that pay the bills and getting involved in projects they are truly passionate about.
Keeping things fresh
One of the big challenges of collaboration is keeping things fresh and to deal with this The Decorators regularly work with new collaborators who bring new ideas and approaches to projects, and help them from 'going stale'. Susanne said, while there were many benefits to collaborating, some things never get easier.
"When you are working together with other people you have to put your ego aside and get a bit looser to allow the ideas to flow," she says, "...you've got to be patient too. There's always an awkward phase at the beginning of a collaboration – you've got to be prepared to stick it out."
Read more about the work of The Decorators.