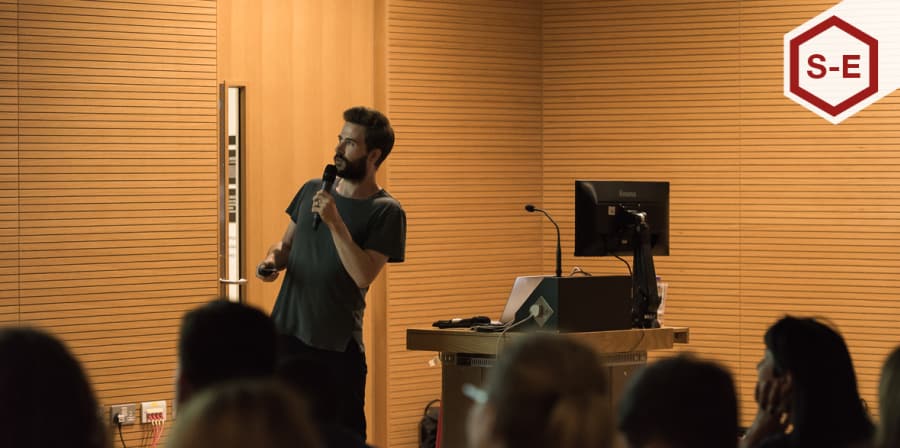 How students and staff negotiate the various tensions inherent in setting up industry projects is the focus of a reflective questionnaire evaluating the student experience in these projects.
University of the Arts London's (UAL) Teaching and Learning Exchange have developed a questionnaire on Moodle for evaluating students' engagement in industry projects. This resource helps course teams to evaluate the impact of industry projects, enhance enterprise and employability and also inform curriculum design and learning and teaching strategies on how to measure student experience. It is intended as a discussion with students and tutors to reflect on their design and support of industry projects.
The questionnaire was developed from the 2013 UAL research project 'Students' Engagement in Industry Projects', which addresses how enterprise and employability are conceived among students in different disciplines and how they engage with industry projects.
Tutors and students are often negotiating a series of tensions that come to the fore in the setting up and running of industry projects. The findings of the research project are presented as tensions intentionally to provoke debate.
The brief report of this study is intended as a discussion paper for tutors who wish to reflect on their design and support of industry projects.
Discussion of the research
20 students from London College of Fashion and London College of Communication were asked about their understanding of the terms 'employability' and 'enterprise', as well as their perceptions of the purpose of industry projects in which they had been involved and the distinctive characteristics of these projects.
The students discussed benefits they had realised from their involvement in the projects, what they would do differently subsequently, and developments they would like to see in the organisation of industry projects. Their tutors were asked about their own roles in organising industry projects, the process of collaborating with industry partners, how they exercised their pedagogic judgment, their strategies for supporting students through the projects, and the work of assessment where projects were part of the course curriculum.
The report finds students' concepts of enterprise and employability, in the context of industry projects, are part of a dynamic process of engagement, which may have positive or negative educational value for students. Student engagement in industry projects does not necessarily result in a broadening of their enterprise and employability horizons. Conversely, this engagement can lead to reduced confidence and be experienced as an unwelcome interruption to students' creative development.
However, many students - particularly those who succeed in the competitive process involved in many industry projects - make important gains in which they come to see their present and future selves as fully-fledged freelancers or envision the development of their own brand.
Both tutors and students often have to negotiate a series of tensions that come to the fore when they engage with industry projects and the key findings of the report are expressed as the following series of tensions:
the possibility of conflict between optimum conditions for formative assessment and the imperatives of high-risk competition between students
the tension tutors face between promoting their course through its association with a high-profile brand on the one hand, and negotiating an involvement from the industry partner, which takes into account the students' educational needs
the tension students sometimes experience as they seek to balance the development of their own artistic endeavour or signature style with the demands of industry-led briefs.
The findings are presented intentionally as tensions in order to provoke debate and the issues embodied by these tensions were not experienced as being in conflict for all students, for all tutors, or in equal measure in all the industry projects.
Evaluating Student Experience in Industry Projects (Live Projects)
The teaching tool for evaluating students' engagement in industry projects can be used by courses to bring the experience back into curriculum.
Students answer questions with respect to a specific industry project after its completion on:
their experience of the industry project;
the role of the industry partner;
how the industry project fits into their course;
how the industry project has influenced thinking about future practice.
Student reflection and feedback on their experience in no way identifies the student individually. Results are then collated for tutors to analyse to draw out meaning and points.
The questionnaire has been built using the 'Feedback' module in Moodle, placed in a Moodle area which can be made available to course teams. The 'Feedback' module has been chosen because it is both straightforward to use (for students and tutors) and includes useful options to analyse student responses. The data gathered can also be imported into a spreadsheet format for further analysis and collation as required.
To make the questionnaire available to their students, tutors can import it from the Industry Projects Feedback in Moodle and place it within their own course(s).
Read more
To get involved and use the tool on your course, or for more information, please contact the Educational Developers:
John Jackson j.d.jackson@arts.ac.uk
Cara Lee Roth c.roth@arts.ac.uk.