Official Selection Locarno Film Festival 2019 - Filmmakers of the Present Competition - World premiere
Discovery Award Long-list, British Independent Film Awards 2019
---
UAL Reader and Lecturer, artist and film-maker, Andrea Luka Zimmerman's latest feature film Here for Life [Modern Films and Artangel] comes to cinemas this week. It's the product of a three-year long collaboration with co-director Adrian Jackson, founder of Cardboard Citizens, a theatre project with, by and for people who have experienced homelessness, with production design by Fred Meller, Director of the Performance programme at Central Saint Martins, UAL.
In cinemas in the UK and Ireland from 22 November, it is one of Sight and Sound magazine films of the month for December, described as "a thoughtful and challenging meditation on marginalisation".
"An uncommon story told on common ground"
Fusing fiction with documentary, Here For Life follows the experiences of ten Londoners and a dog, as they get to know one another and come together as a community formed through shared experiences of loss and love, trauma and bravery, struggle and resistance.
The characters dance together, steal together, eat together; agree and disagree, celebrate their differences and share their talents, grappling with a system that seems stacked against them. Their stories and performances become woven together, blurring the lines between fact and fiction through a series of intimate confessions, staged performances and journeys through London.
Eventually coming together on a makeshift stage built on reclaimed ground between two train tracks, they prompt a debate about the world we
live in, who has stolen what from whom, and how things might be fixed.
The principal cast are Jo Galbraith, Jake Goode, Richard Honeyghan, Kamby Kamara, Errol McGlashan, Patrick Onione, Ben Smithies, Floria Twyman, Jono Whitty and Sasha Winslow.
Andrea Luka Zimmerman:
This film seeks to explore how stories can be told across differences and beyond fixed ways of seeing.

Working with people whose lives have often been difficult, the challenge is to allow the full range of their being to exist within the work, not just a sanitised version that confirms prior expectations.

I believe that when working in the edge-lands of experience, of lives in relation to larger dominating structures, it will always be challenging, which is why it feels important when it comes to telling under-explored, unheard and difficult stories.
On the fringes
Many of the scenes in Here for Life were shot at Nomadic Community Gardens, a not for profit project on the edge of the City of London.
A dumping ground between two train tracks for 20 years; over the past four and a half years, it was transformed by local volunteers into a vegetable garden and allotment, and vibrant community hub.
It had been let to locals on a meanwhile lease, permitting the use of the vacant premises temporarily for non-commercial use while the landowner sought a commercial tenant. Since making the film, the gardens closed for good at the end of September, with a new tenant preparing to move in.
Andrea Luka Zimmerman:
I am a perennial observer, wishing to understand how images may be opened up to show us the richer variant meanings contained within them.

From the very beginning of the project we were interested in "temporary autonomous zones" and the ways in which cities are navigated by those who live at the edges of mainstream social and economic society.
Other locations came directly from listening to people's stories:
Richard wanted to visit the coast, so we filmed a dream sequence in Dungeness – a headland on the coast of Kent where Derek Jarman lived.

Patrick wanted to show us his Bermondsey, the one he grew up in – not the imposed and gentrified version.

Brixton's Electric Avenue was where Patrick and Errol walked with a working horse – an homage to the old order of the area and reference to the huge shifts in the area they have known since childhood.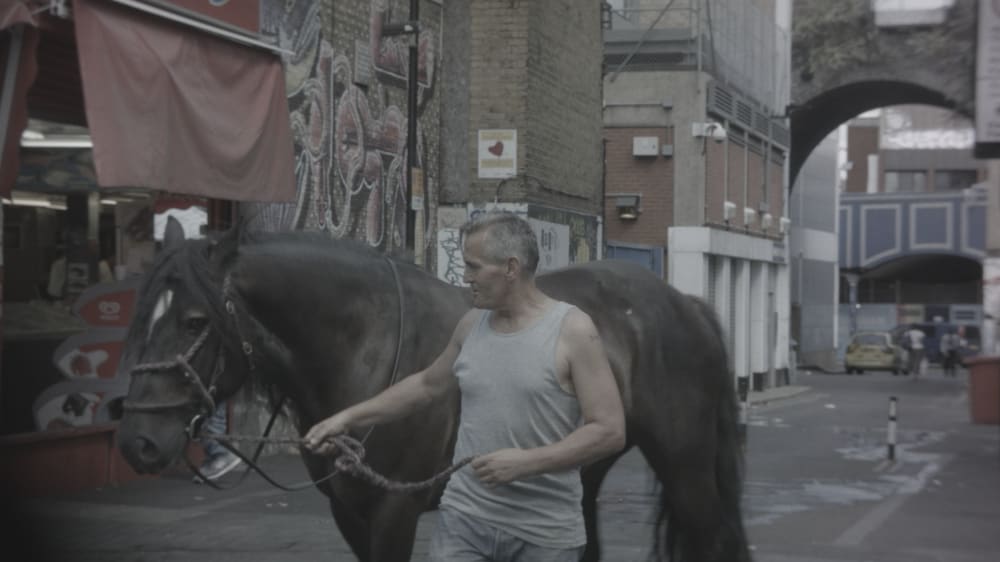 ---
Andrea's film practice, research and teaching
Concerned with marginalisation, co-existence, waywardness, social justice and structural violence, Andrea's work has been shortlisted for the Grierson and Jarman awards. Previous films have explored the crisis around social housing in Britain and structural and political violence in America. Recurring themes across Andrea's research and practice include place, community, class, poverty, health and representation.
As Lecturer and Reader (Research) in art film practice at Central Saint Martins, UAL, Andrea identifies the importance of access to artists' films and of exposing students to a range of narrative structures in film:
I am a long-term advocate for non-monoform practice, seeking forms that hold the full complexity of human experience.

I am energised by having to think through and deliver positive change, especially around difference – be it class, race, gender, neurodiversity and so on. I am working with my colleagues to support a feminist and decolonised approach to learning, teaching and practice.

Advocacy, mentoring and teaching are central to how I think about my larger practice. I consider the relationship between practice, research and teaching to be a dynamic and interwoven one. My guidance is only as relevant to my students as my work is to the times in which we live.
Andrea co-founded the cultural collectives Fugitive Images and Vision Machine (collaborators on Academy Award® nominated feature documentary The Look of Silence) and has co-edited the books Estate: Art, Politics and Social Housing in Britain and Doorways: Women, Homelessness Trauma and Resistance and published extensive articles in Open Democracy, La Furia Umana and Homecultures, among others.
Here For Life UK Official Trailer - Modern Films